Stats 4 Smiles in Charlotte
Scoring
Smiles
for Kids
& Veterans
When players earn stats, kids & vets earn smiles. It's as simple as that. As orthodontists, we understand the value of a confident smile, and we strongly believe EVERY person should be able to receive this gift. That's why we came up with Stats4Smiles – a fun way to award FREE braces to kids & vets in need.
Here's how it works
Professional Athletes Recruited.
Our Stats4Smiles orthodontists across the country recruit athletes from every sport to participate in our program. We've even had athletes come to US when they find out what we're doing!
Athletes Earn Stats.
Each athlete, depending on his or her sport and position, is assigned a stat that they must achieve in order to award FREE treatment. Meet our athletes below!
Orthodontists treat kids & vets for free.
Once an athlete earns his or her stat, no matter if it's one time a season or 20 times a season, our Stats4Smiles orthodontists will treat one kid or vet for every stat earned!
Scoring confident smiles for life.
With the Stats 4 Smiles program, everyone wins – the athletes who are given the opportunity to use their insane talent to put more confident smiles on the faces of deserving fans, the young people whose lives and smiles are forever changed as a result, and us docs for being lucky enough to support the community we serve in this awesome way. Know a young person or vet who would benefit from getting a #StunnaSmile through the #StatsForSmiles program? Nominate them through the form at the bottom of this page!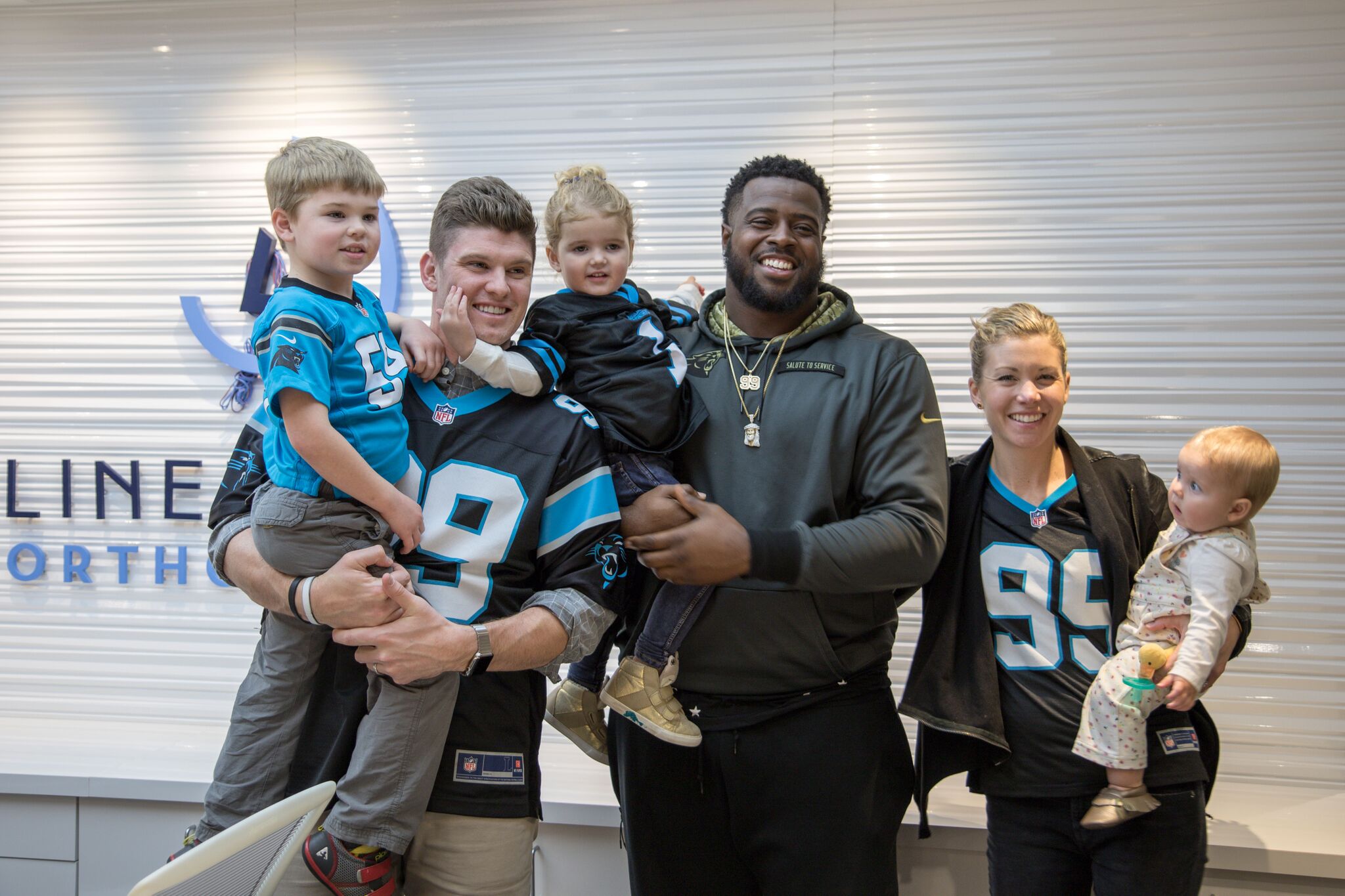 KAWANN SHORT (2014)
Our 1st S4S Ambassador
Pro Bowl defensive tackle for the Carolina Panthers and Purdue alum like Doc Meggy. Amazing guy with an amazing smile (thanks a little to us and Invisalign (;). 13 sack Pro Bowl season in the first full year of Stats 4 Smiles (quite a little over our estimated number, lol)!!!!!
Had a party at the end of the season where he showed up and surprised all the kiddos and their families that received FREE treatment due to his stellar play. 'Twas quite a smile-filled occasion.
Kawann continues to #keeppounding and at the end of the 2017-2018 season, he had 30 (yes, THIRTY!!) kids smiling ear to ear, teeth just sparkling with our braces on them.
3 sacks this season to date
FRANK KAMINSKY (2016)
Frank the Tank! Frank the Tank!
All Star 3 point sniper PF for the Charlotte Hornets
Huge smile to match the 7ft frame (another star LO patient)
Loves the Stats 4 Smiles mission and has been known to FaceTime the kiddos he gets braces for on the day they have them put on, which is quite a shocking and fun experience for our newly braced friend.
Through the 2017-2018 season, Frank had shot lights out and crashed the boards hard enough to get 9 kiddos FREE treatment!
BRAD KESELOWSKI (2016)
NASCAR All Star driver
Was super stoked to focus on the smiles of our Charlotte veterans
Won 3 races since joining the squad, including the Daytona 500!!!!!
4 smiling veterans are now straightening out their smiles with Invisalign, a great way to say THANK YOU for their inspiring service
4 First Place Wins to date
JON RAHM (2017)
PGA rookie phenom straight from Espana
Immediately after joining the Stats 4 Smiles Squad, he decided to take first place at a tournament in Ireland.
A frequent regular at the LO Smile Shop, Jon is a big fan of orthodontics. He will often send a video of himself congratulating the Stats 4 Smiles recipient on their new braces!
For every TOP 3 finish, Rahmbo (as we like to call him) puts a kiddo in FREE treatment. In the very short time since we teamed up, he has already racked up 4. Insane.
9 Top Three finishes to date
DONTE JACKSON (2019)
4 interceptions this season to date
CHRISTIAN MCCAFFREY (2019)
12 touchdowns this season to date
SHAQ THOMPSON (2019)
6 total sacks/interceptions this season to date
Stats 4 Smiles
Go Panthers! The staff of L.O. teamed up with some of our favorite Carolina Panthers to develop the Stats 4 Smiles™ community program. Each time one of our partner players scores or makes a big play during a game, we provide a child in need with orthodontic treatment for FREE! We work with local community leaders to find boys and girls who are in need of orthodontics, yet various circumstances keep them from receiving the care they deserve. It warms our hearts each time we see one of these youngsters smile for what may be the first time ever! Smiles Change Lives works with the dental community in our area to help us find kids who are in need.
Ready, Break!
Know a kid or veteran in need that would benefit from free braces?
We want to hear their story.