Meet Our Team
Rachel
Office manager & Treatment coordinator Charlotte
Has won many Employee of the Month Awards (self-proclaimed, we don't really have this award)
Dr. Claire's much cooler sister
Has been compared to Muhammed Ali in the ring
Lifetime Movie enthusiast and local pizza critic, killer combo
Die-hard Michigan State fan
Loves fly fishing out west
Courtney
Clinical Manager
Secretly drinks office coffee all day
If a TV show is uneducational, or actually takes away your intelligence by watching, she probably is viewing it on her DVR right. now.
Although she be but little, she is a foodie
Proud dog mom
She likes her beauty rest.. in her words, "it's always bedtime"
Cass
Clinic Lead Charlotte
Born in New Hampshire… snow much fun.
Please forgive her for being a Patriots fan
Sassy daughter Aspen keeps her on her toes
Grew up around racing and always has that need for speed
Movie buff. Especially those that involve Tom Hardy…. What???! He's a great actor!!
Virginia
Clinic Lead Huntersville
Used to be a rookie, now a vet
Spanish speaking superstar
The Muggsy Bogues of volleyball
Her mundo is comprised of her dog and her hubby
Loves the outdoors and cosmetology (you can still look fabulous while camping guys)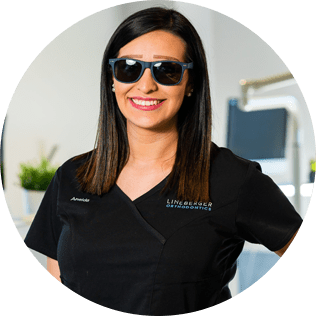 Aneida
AKA Clinical Assistant
Lover of all things NASCAR and soccer
Has seen all the Star Wars movies more than a few times… biggest fan, she is
New mama to one seriously cute baby
Bilingual
Astrid
Marketing Coordinator
Creatively collaborates with local businesses and charities to help Lineberger Orthodontics raise up the local community
Speaks Spanish, English, and Mexican
Was hired at first because of her familial connection (and possible discounts) with an amazing food truck that serves awesome tacos
Has tried to implement a 2-4pm siesta every day at the office, unsuccessfully thus far
Audrey
AKA New patient coordinator extraordinaire
Fur baby mama of two dogs – Blanket and Penelope
Her bf Josh converted her to a VT fan – went to almost every football game last year
Addicted to coffee
Magical unicorn – Charlottean, born and raised
Loves a good game night with friends – claims to be a charades master
Caroline
AKA Lab Technician
Originally from Canada, aye
Speaks French
Has one child who is the light of her life
Moved here in 2002 from NY
Loves cooking, motorcycle riding, yoga, dancing + traveling
Christina
Financial Coordinator
Loves some pasta and pizza
Quite the crafter and baker
The only person to ever meet their future spouse playing ultimate Frisbee
High School State Champion volleyball player
Obsessed with board games, card games, and any other game she can beat you at
CiCi
AKA the great dance loving smiling patient educator
Danced for the Charlotte Hornets as a Honeybee for five years. We're still trying to convince her to dance on our TikTok.
Watches Home Alone 1 and 2 year round
Lived out of the country until 13 years old
Addicted to coffee
Certified dog mama to a lab corgi mix, Sir Beau
Hayley
AKA The Money Gal aka Financial Coordinator
Wonderful mother of 2 demanding fur babies
A wine enthusiast (the beverage, not whine)
Famous saying.. "I just need one thing from Target.."
My life isn't perfect, but my lashes are.
Jennifer
AKA the most gentle assistant in history
Came to Huntersville 12 years ago by way of South Bend, IN and Hurricane, WV
One of the few soft-spoken members on the team
25 years of orthodontic experience
Married for 36 years to her awesome husband
Extremely proud of her 3 kids and 6 grandkids
Loves time with the fam, gardening, cooking, and beaching
Jess
AKA TC Assistant, AAKA the genius behind the camera lens (she takes the records)
Still jams to her iPod Nano
Loves new food and trying new things
Favorite drink: shirley temple
Karaoke enthusiast
Youngest of three, loves spending time with family
Kimmie
AKA Florida Gator and Maroon 5 lovin' amazing assistant
Veteran OG assistant
Expert yogi, leads entire team every morning with a sun salute in the morning huddle
Literally obsessed with braces, to the point of weirdness
Avid Florida Gators fan, unfortunately
Not a person that values silence (aka she is rather loud)
Taylor
AKA Treatment Coordinator
Married to fabulous husband Chris, but her true love is her goldendoodle, Charlie
Total lake gal from a total lake fam who like to spend lots of time on the lake
Loves to shop with friends, loves to shop with her husband, and when by herself both at home or on break at work. Basically just loves to shop, period.
Marissa
AKA Ortho Assistant
Huge Sports Girl- Go Bills, Keep Pounding Panthers and Yankees baybee!
Unofficial Chef- you name it, she'll make it better! Don't ask her to bake, though.
Oldest of four but looks the youngest (don't tell them that)
Home project connoisseur- "measure twice, cut once"
Lyanne
AKA Ortho Assistant
Originally from LA, California but considers herself a Colorado native.
Enjoys CrossFit, competitive soccer and loves to travel.
Has a baby girl named Aria and is happily married!
Has lived in 6 different states! (CA, CO, NE, GA, FL, NC)
Lauren
AKA Admin Lead
Mom to a spunky toddler
Charlotte native
World traveler- oh, the places she'll go
Peloton obsessed, but don't let all the snacking fool you
Heidi
AKA Vibe Coordinator/TC
Will drop anything for a tennis match and loves anything involving sports and competition.
Starred in an orthodontic commercial while in college
Pianist, dancer, singer, obsessed with music in every way
Grew up on a potato farm in Idaho, where she raised pigs, drove a tractor, moved landlines, & hoed a lot of beets!
Morgan
AKA Scheduling Coordinator
Dogs > humans
#CeliacsDisease, but thank God for Gluten Free Oreos and Pasta
Her friends and fam refer to her as the UNO master
Impulse shopper (online and in store)
Bri
AKA Invizzy Assistant
Her real name is Briana, but she tells everyone to just call her Bri
She LOVES to sing and dance anywhere, anytime
Has a pitbull name Junebug that she rescued who is her whole world
Loves to do anything fun outdoors
Loves, loves, lovessss to talk. She could talk your ear off if you let her!
Jaden
AKA the sweetest Lab Assistant there ever was
Takes an embarrassing amount of pictures of her dogs
Loves to travel, especially to the beach. She is happy anywhere there's sand and water!
Slightly obsessed with Olive Garden, but mostly their breadsticks
Secretly a history nerd
Kate
AKA Scheduling Coordinator
Loves all things art. She draws, sings (not very well), writes poetry, and dances!
During her free time, she likes to hear live music and visit museums
Her favorite animal is an elephant- she has 32 elephant sculptures, and pieces of artwork in her home!
Her goal is to travel to all 50 states by the time she is 35.
Skyla
AKA Sis AKA Sterilization Kween
Started off as an LO fam patient and loved us so much that she got a job here
Kimmie's much cooler daughter
Baby of the bunch
Future Dr. Skyla (going to school to be an orthodontist!)
Taylor
AKA Croc Rocking Assistant
Lover of alllllll ice cream
Full-time dog mom to two puppers, Miley and Hanky
Would prefer to be on a boat somewhere fishing and getting sunburned with her boyfriend
Has transported/fostered over 75 dogs from the shelter
Rosie
AKA "Sorry I'm late, I had to run by Starbucks" Invizzy assistant
Was stung by a scorpion
She can't swim (SOS!)
Can rap to any beat
Not the best in the kitchen, but she can make a mean egg sandwich